Eastern AHSN is working with partners across the region to help clinicians more accurately diagnose asthma through the use of fractional exhaled nitric oxide (FeNO) testing.
Below are resources to help clinicians to roll out this test in NHS services. If you are interested in working with us on this project or would like more information, please contact Sarah Curry, [email protected].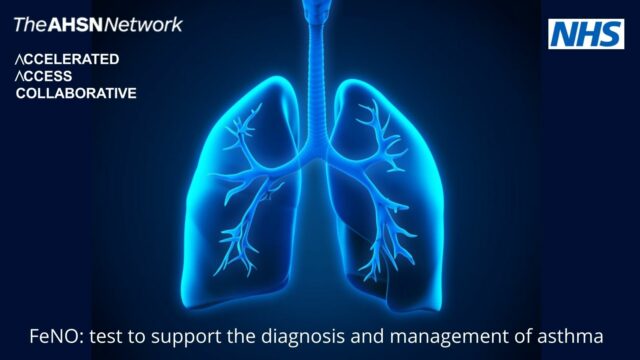 Use the rollout toolkit
This rollout toolkit provides downloadable tools and resources to support NHS organisations with the adoption and implementation of FeNO testing. There are also a range of other resources available on Wessex AHSN's website.
Access e-learning
Two e-learning modules have been designed in line with NICE and Primary Care Respiratory Society (PCRS) recommendations to enhance awareness of FeNO testing and increase uptake whilst also ensuring health care professionals are provided with the knowledge and skills required for the optimal use of this simple and safe test. Each module takes around 30 minutes to complete.
These modules were created in partnership between the Accelerated Access Collaborative (AAC), Health Education England e-learning for healthcare, NHS England and NHS Improvement, Wessex AHSN, the AHSN Network and the Office for Life .
This link will take you to the elearning for healthcare page for FeNO in Asthma resources. Please scroll down the page to register for e-learning modules. You'll need your organisations ODS code.
Join the learning collaborative
Wessex AHSN's FeNO Learning Collaborative is a series of online events bringing together healthcare professionals from across the country who are currently using FeNO, are in the process of implementing testing or are interested in/planning to do so to share learning, best practice, and discuss areas of interest such as barriers, training and misconceptions. Find out more on their website.
Template for change
There is a template case for change for the FeNO test to support clinicians and service managers interested in adopting the test. This is supported by the interactive data dashboard which allows users to identify cost associated with asthma across CCG's in England.
Access the NHS BSA respiratory dashboard
The NHS BSA respiratory dashboard has a new metric for seeing high prescribing rates of the oral steroid prednisolone. Link to access is here along with the accompanying guidance document.
Challenges of identifying and managing uncontrolled and severe asthma webinar recordings
The AHSN Network and NHSE Accelerated Access Collaborative held a set of three free interactive webinars on the challenges of identifying and managing uncontrolled and severe asthma in March 2022. Follow the links below to watch a recording of each webinar: